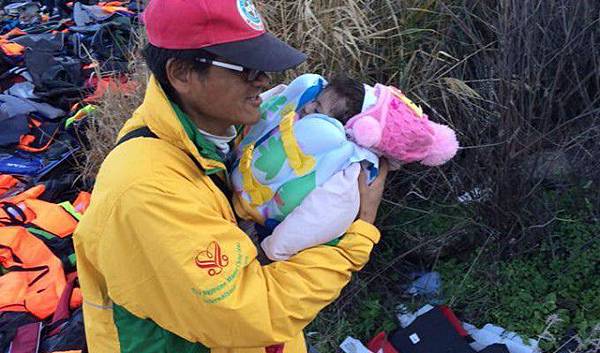 Master is always deeply concerned when disasters occur in any part of the world. Upon hearing news of such events, She immediately provides financial assistance and sends relief teams. Through such efforts, Her unconditional love and support are conveyed to those affected, thus reducing their suffering while helping them to rebuild their lives.
In recognition of the selfless actions of governments, organizations and relief workers around the globe, Master expresses Her gratitude as follows: "Thank you, all the international help that brings care and necessities to afflicted victims. Thank you all the relief workers for taking time and forsaking your own comfort, even traveling great distance on unfavorable roads and conditions to bring love and assistance to people in a time of need. May Heaven bless you abundantly for your generosity and noble sacrifice."
~Updated Nov. 26~
Assisting the Continuing Journeys of Refugees Arriving in Lesbos Island, Greece
Europe | Greece |
By Formosa and United Kingdom Relief Teams (Originally in English) In response to Master's loving reminder to assist the refugees, our Association members from Formosa and United Kingdom formed a relief team and traveled to the island of Lesbos, Greece, to lend a hand wherever needed and provide continued support for the refugees.
On November 15, 2015, our relief team arrived on Lesbos where we visited three different refugee camps to assess the situation. About 3,000 refugees are coming to Lesbos daily and are transported to different camps by bus with the help of many NGOs. Our relief team is working with the NGOs to provide needed aid.
On November 16, 2015, as we were driving near an area south of the island's capital, Mytilene, a local man asked us to assist a full boat of approximately 60 refugees for landing. We drove down quickly and were able to help. The refugees were very happy to land safely and were pleased to see us.
Later, we visited the transit camp in Mantamados and a camp organized by Mercy Corps in Sikamineas. Both places were very well organized. Next, we went to the northern tip of the island close to Turkey where many refugees arrive. After spotting four boats approaching the rocks, we worked with volunteers from the Youth With A Mission organization to help these boats land safely and assisted the refugees to climb up the cliff. All the refugees were very happy to arrive in a new land safely.
On the way back, we attended a meeting with some of the volunteer groups and learned warm supplies will be needed for the coming winter and the refugees' upcoming journey further north. Thus, we are currently planning the purchase of 4,000 sleeping bags and light raincoats for the refugees staying at Camp Moria, where they will be waiting for their paperwork to be processed. The remaining funds will be given to a local volunteer organization, which is responsible for receiving children and pregnant women, to purchase a much needed second van.
On November 17-19, our relief team in Lesbos, Greece purchased 4,000 sleeping bags and raincoats, socks and children's clothing to be distributed to the arriving refugees. These warming items are desperately needed as winter is approaching. Sleeping bags are especially in high demand because some refugees do not have tents or their tents do not have heaters installed.
As approximately 3,300 refugees continue to arrive at the Greek island of Lesbos daily, the camp in Moria, as well as other assembly points and reception sites, have far exceeded their capacity. Therefore, on November 19, our relief team went to Camp Moria to help clean up the site and meet other NGO members. We collected many bags of rubbish together with other volunteers. Some refugees also joined us in cleaning. We were pleased to see the site was a lot cleaner and less crowded, with the arrival and help of more volunteers and the United Nations staff members.
Speaking to some of the refugees, it was heartrending to hear stories of their journeys here. Many of them had to walk 20 to 30 days before getting in a boat for Lesbos, and are now being faced with an uncertain future.
We also later visited The Village of All Together, an open shelter for refugees organized by Lesbos citizens, collectives and NGOs, located at a former tent-camp for kids, PIKPA. The site is now a camp for the most vulnerable among the refugees such as those who are pregnant, sick, and living with a disability. Every day, the camp provides meals for 1,000 to 2,000 people. They plan to set up a vegetarian restaurant in the busy area near the port, which will also provide employment opportunities for refugees. After asking what they needed, our relief team has decided to help them look for a much-needed van while we are on the island.
We were interviewed by a German TV channel, and told them of the collective relief efforts here in Lesbos, and also the importance of adopting a vegan diet to protect all life on the planet.
Update Summary:
On November 22, we revisited Camp Moria to deliver clothes, shoes and supplies. Two days later, about 5,000 more refugees arrived on Lesbos and they desperately needed help. Therefore, we started buying supplies from local supermarkets and drove to different locations to distribute them. Within two days, over 100 sets of children's clothing, 6,000 pairs of socks and a few carloads of food, sleeping bags, blankets, clothes and other daily necessities were distributed to the newly arrived refugees, all with Heaven's love. We will distribute another 2,000 sleeping bags and 2,000 rain ponchos at the border of Greek and Macedonian.
Note: More information coming soon!
Refugee relief efforts in Camp Moria in Lesbos, Greece – November 2015
Refugee relief efforts in Camp Moria in Lesbos, Greece – November 2015
Refugee relief efforts in Camp Moria in Lesbos, Greece – November 2015
Refugee relief efforts in Camp Moria in Lesbos, Greece – November 2015
Refugee relief efforts in Camp Moria in Lesbos, Greece – November 2015
Refugee relief efforts in Camp Moria in Lesbos, Greece – November 2015
Refugee relief efforts in Camp Moria in Lesbos, Greece – November 2015
Refugee relief efforts in Camp Moria in Lesbos, Greece – November 2015
Refugee relief efforts in Camp Moria in Lesbos, Greece – November 2015
Refugee relief efforts in Camp Moria in Lesbos, Greece – November 2015
Refugee relief efforts in Camp Moria in Lesbos, Greece – November 2015
Refugee relief efforts in Camp Moria in Lesbos, Greece – November 2015
Refugee relief efforts in Camp Moria in Lesbos, Greece – November 2015
Refugee relief efforts in Camp Moria in Lesbos, Greece – November 2015
Refugee relief efforts in Camp Moria in Lesbos, Greece – November 2015
Refugee relief efforts in Camp Moria in Lesbos, Greece – November 2015
Refugee relief efforts in Camp Moria in Lesbos, Greece – November 2015
Refugee relief efforts in Camp Moria in Lesbos, Greece – November 2015
Refugee relief efforts in Camp Moria in Lesbos, Greece – November 2015
Refugee relief efforts in Camp Moria in Lesbos, Greece – November 2015
Refugee relief efforts in Camp Moria in Lesbos, Greece – November 2015
Refugee relief efforts in Camp Moria in Lesbos, Greece – November 2015
Refugee relief efforts in Camp Moria in Lesbos, Greece – November 2015
Refugee relief efforts in Camp Moria in Lesbos, Greece – November 2015
Refugee relief efforts in Camp Moria in Lesbos, Greece – November 2015
Refugee relief efforts in Camp Moria in Lesbos, Greece – November 2015
Refugee relief efforts in Camp Moria in Lesbos, Greece – November 2015
Refugee relief effort
s in Camp Moria in Lesbos, Greece – November 2015
Refugee relief efforts in Camp Moria in Lesbos, Greece – November 2015
Refugee relief efforts in Camp Moria in Lesbos, Greece – November 2015
Refugee relief efforts in Camp Moria in Lesbos, Greece – November 2015
Refugee relief efforts in Camp Moria in Lesbos, Greece – November 2015
Refugee relief efforts in Camp Moria in Lesbos, Greece – November 2015
Refugee relief efforts in Camp Moria in Lesbos, Greece – November 2015
Refugee relief efforts in Camp Moria in Lesbos, Greece – November 2015